Servers:

Ultra Fast servers are essential to the success of any website.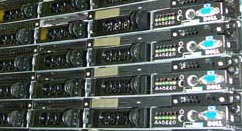 Every domain hosted with us is a full IIS6 Virtual Server.
We only use rack-optimised Dell servers. By standardising our technologies on these high-quality machines, we can raise our levels of expertise, keep a ready inventory of spares and be able to respond to faults quickly. Our excellent relationship with Dell also ensures keep up with the latest technologies too.
These servers provide high performance and high availability with integrated management and monitoring systems. Combined with these servers we make use of reliable Windows 2003 server operating system software.
This allows us to make use of the latest Microsoft technologies such as Active Server Pages (ASP) and Open Database Connectivity (ODBC)and full .net framwork support.